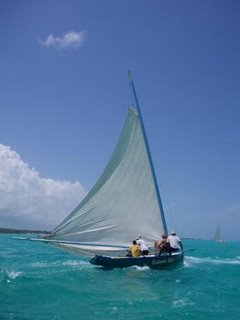 George Town – Great Exuma
April 2006
Anchored in Elizabeth Harbour between the community of George Town on Great Exuma Cay and Volleyball Beach on Stocking Island we are positioned to have a first class view of the The National Family Island Regatta which goes through this week. This regatta is one of the biggest annual events in the Bahamas, drawing in crowds of Bahamians and others from the world of yachting. The Family Island Regatta began in 1953 and has become a fierce tradition in the islands where the participating racing sloops represents their home island. The 14-28 foot boats are all handmade with masts up to 60 feet tall. They carry a crazy amount of sail on that giant mast with 40 foot booms that extend well beyond the stern. For ballast while under way the crew sits on a pry, a board that sticks out off the side of the boat. When the skipper tacks the sloop up to nine crew members have to slide themselves and their pry across the boat to balance out the new point of sail. In preparation for this highly anticipated event locals have set up business along a waterfront road in quickly constructed plywood shacks serving food and beverages. Kind of like the Western Idaho Fair, only these very small kiosks are all connected and all offer any kind of spirit and conch fritter. Betting on your favored boat also seems to be a common activity in this neighborhood. There are three classes (A, B, C) for the different sized boats and while there is a good amount of prize money in store for each of the winners, the real goal is the glory of first place. The A class (largest boats) winner will receive approximately $7000. Not bad, until you consider that a main sail alone for one of these boats costs somewhere around $5000. It has been exciting to watch the preparations and now be a part of this spectacular event.
Prior to arriving in George Town, population 1157, we had been in some very remote locations. We ended up staying at Warderick Wells a full week because a low pressure system developed and stayed over our heads for 4 full days. The resulting squalls kept us on the boat and yes, we started going a little stir crazy. We ate, read, ate, listened to the radio, read, ate some more. The lack of physical activity that week definitely put our calories in/calories out in a state of imbalance. The positive effect of the heavy rainfall during this time is that we were able to fill our almost-empty water tank. This was a very good thing because there was no other source of drinking water at Warderick Wells. To fill the tank, Rod first scrubbed the side deck of the boat as the rain began. Once sufficiently clean we were ready to capture the water by simply opening the 2 inch diameter cap to the water tank on that deck. We knew that we had to be down to our last few gallons of water in the tank, given our typical usage and the time that had elapsed since our last fill. So we were amazed that in just 25 minutes the 80 gallon tank was full! That is how hard it was raining. Over the next three days we were able to perpetually keep the tank full with the rain water! Pretty exciting since we have been paying 50 cents a gallon for water in the Bahamas!
As soon as the weather permitted we were more than ready to be on our way. We left Warderick Wells on Friday, April 16th. Not something that Rod was completely comfortable with given the lore of bad luck befalling those who leave port on a Friday. We escaped any unfortunate events and enjoyed an exhilarating sail to Big Majors Cay near Staniel Cay. And since we took our chances with leaving on a Friday, we were able to have dinner out with Greg and Cindy aboard Day Dreamer at Club Thunderball on Staniel Cay that evening for their Friday night BBQ ribs, which are prepared on an outdoor backyard BBQ. Delicious! This was our first meal out in three and a half weeks and the same amount of time since our last trip to a grocery market so we were running quite lean on our fresh stores. Especially after eating nonstop during our extended stop at Warderick Wells!
Our three days anchored off of Big Majors Spot near Staniel Cay were highlighted by snorkeling the famous Thunderball Grotto, Rod giving himself a haircut, and a trip to a beach to feed the pigs. Yes, pigs. These are not wild boars that you would expect to find on a deserted island, but these are the big pink pigs you would see on a farm. Years ago someone placed a breeding pair on the island and they have been busy ever since. These pigs run out of the island shrubbery as they hear your dinghy motor approaching, just like the iguanas at Allan's Cay they associate people with handouts. I came prepared with a bag of stale bread but I was unprepared for just how enthusiastic they would be over our arrival. They immediately charged toward us and one pig started to jump in our dinghy! I couldn't throw the bread at them fast enough!
Thunderball Grotto is a must-see if you are ever in this part of the world. At low tide you can swim into the cave/grotto and frolic with all kinds of fish that make this protected area their home. There is an opening on the opposite side of the common entrance so it's best to explore at slack tide to avoid the strong current that rips through here as the tidal change picks up speed. And yes, this is THE Thunderball Grotto from the James Bond movie "Thunderball", as well as where parts of the movie "Splash" were filmed.
It had been six weeks since the haircut Bryan gave to Rod, and Rod was starting to make comments that it was time for another one. If we had been near a phone we would have called Bryan to ask for his barber skills, but instead Rod just pestered me to do it. When I had put it off longer than he liked he got out the clippers and did it himself. Win-win, if you ask me. He got his haircut and I didn't have to do it. And it turned just fine. The downside to his new number-two-all-over-do was that he proceeded to sunburn his scalp that afternoon while he spent 4 hours in the water cleaning the waterline of Lucky Peek. It had been a couple of months since the algae growth had been scraped off and according to Rod we had quite the eco-system developing on the bottom of our boat. When he emerged from this lengthy task he actually had itty-bitty teensy-weeny little shrimp clinging to his neoprene shirt. They were the size of tiny ants and as he scraped away their condos they were trying to set up a new life on him. The haircut/bottom cleaning day was Easter Sunday and we ended the beautiful day with a nice dinner of canned Danish ham, scalloped potatos, and green beans. We talked about how we missed our family and friends and how impossible it is to describe what we are experiencing on this adventure. As the sun started to set we laughed at the sounds from the nearby shore of the little goats bleeting as they moved into the cave that we were anchored just off of for the night. On a night where we were experiencing a bit of homesickess there was some surprising comfort in the sounds that were less island-like and more like the mainland of home.
From Staniel Cay we sailed down to Little Farmers Cay. After some uncertainty over where to anchor for the night we finally decided on a spot that was just behind Day Dreamer off the shore of the tiny settlement of Farmers Cay. Greg and Cindy greeted us on our arrival and once our anchor was settled into the sandy bottom we dinghy-pooled with them over to Great Guana Cay (not the same Great Guana from the Abacos) to explore in hopes of finding a cave that we had read about. After searching the island for over an hour, which at some times meant bush-whacking our way through since there was no apparent trail, we backtracked and took a different route. Voila! This cave descends some 90 feet into a cavern which offers two fresh water pools at the bottom. Cave divers actually hike in with their gear to dive the 70 foot deep pool which then branches out over 700 feet. We all agreed that would take bigger cajones than any of us had. The day was hot but the cave was cool and sometime in the distant past someone had put a bucket in the cave to catch the refreshing fresh water that drips from one of the many stalactites. The bucket has become completely consumed in the calcification from the water and is now a permanent part of the cave. A cup hangs from the bucket for the benefit of the thirsty explorer. Rod took a drink and proclaimed it quite good. I thought I'd give it some time to see if the water had any ill-effects so I just poured the water over my head. Hey, if it does happen to have some fountain of youth magic to it then maybe I'll get some benefit from the dousing. The hike back to the dinghy on shore was a quick 15 minutes now that we knew the way. Greg and Cindy were going to the Little Farmers Yacht Club restaurant to celebrate their 2nd wedding anniversary that night so Rod and I decided to give them some romantic space and go to the other dining establishment, the Ocean Cabin. We tried to hail the Ocean Cabin on the VHF for dinner reservations but when we didn't get a response we just decided to show up. Point of clarification, the reservations are not required so that you have a table, they are required so that they have food ready to feed you. When we arrived unannounced it was uncertain whether Ernastine would be able to serve us or not. She didn't want us to see the menu because she knew she wouldn't have all the ingredients at such short notice to make anything we wanted. So we settled on what she had available. One order of cracked conch and one order of lobster. Homecooking, Bahamian style. It was wonderful! I should also note that when we first arrived there was one table of six customers (other cruisers) already eating and by the time our dinner was ready we had the whole place to ourselves, except for the friendly bartender with an impressive head of dreds and his visiting girlfriend. It was a very warm, inviting place for a tasty dinner. And for an extra special treat we ordered a bowl of chocolate ice cream for dessert. What would seem to be a simple request caused a series of activity. First the search for a key. A key for ice cream? Thankfully, the key was found and the outside shed that housed the freezer could be unlocked. Two scoops of heaven and we were heading back to Lucky Peek with very satisfied tummies.
We spent only one night at Little Farmers Cay and were on our way to George Town at 7am the following morning. We would travel the 44 miles on the Exuma Sound, on the opposite side (eastern) of the islands on which we had been traveling since arriving in the Exumas. It was a beautiful day and the winds were close to ideal. Along a good stretch of our course we were traveling along a steep drop-off, where the depths drop from 50 feet or so to over 5000 feet. This is a prime fishing zone. Rod selected the cedar plug for our first attempt at catching dinner. This fishing lure is supposed to look like a flying fish swimming through the water and therefore attract a dolphin fish (Mahi Mahi, not Flipper). We were pretty excited when something hit the line and by the bright green and blue color flashing in the water behind us we knew we had indeed landed a three and a half foot dolphin. We reeled it in (yes, we're still using our caveman hand line) and got it up to the side of the boat, up to the side deck, and when his tail brushed past the life lines he flipped and flopped himself right off the hook. Bye-bye dinner. Again, while I didn't like the prospect of the fish being in pain or the gruesome reality of what Rod was going to do to end his pain, I was really looking forward to the delicious fillets. Not to be deterred, Rod put the line back in the water and added another makeshift handline so we could double our chances. But the lucky guy that got free must have spread the word that there was a flying fish imposter in the neighborhood. We didn't get another bite the rest of the day.
Since arriving in George Town we have made the one mile dinghy trip from our anchorage off of Stocking Island over to the settlement of George Town many times which depending on what the winds are doing can be a days worth of excitement just in that single activity. The harbor is quite large therefore the winds can create quite a fetch making the dinghy ride a bumpy and wet venture. Rod is perfecting his "George Town Standup", a term we use for the crazy people around here that drive around in their dinghies standing up. But if you can actually stay in your dinghy while standing up at least you avoid "Dinghy Butt" – a soaked bottom. I am currently using the wi-fi connection at the St. Francis Resort which is near our boat on Stocking Island. Resort is a big word for such a small quaint establishment. I'm sitting on their sunny deck under a shade umbrella watching the Class A boats racing in the Family Island Regatta. Beyond the sounds of the waves lapping at the shoreline below me I can hear the strong beat of the Bahamian music coming from the shantytown kiosks over in George Town a mile across the harbor. There is a nice breeze blowing to keep the temperatures comfortable. It would be a great day to so sailing…