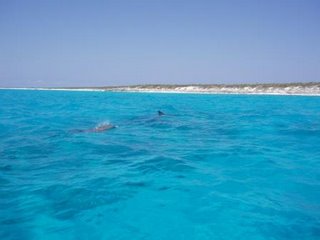 Conception Island, Bahamas
May 7, 2006
We left George Town, along with almost every other boat in Elizabeth Harbour on Wednesday, May 3. Most boats leaving were heading north; there were about 7 of us heading southeast. We had an exciting exit from the Middle Channel cut out of the protected Elizabeth Harbour and into the Exuma Sound as we rode on 10 foot waves and carefully navigated our way around the nearby reef where those same waves were crashing noisily. Once we were out the cut the waves were benign and we had a great sail over to Long Island where we anchored in a beautiful serene bay – all to ourselves, as others had chosen different anchoring destinations.
Anchoring at Long Island was just for the night. The following morning we pulled up the hook and set a northerly course to Conception Island. Conception is an uninhabited island that is under the same protection as the Exuma Land and Sea Park. Look but don't take fish, shells, etc. That evening we anchored on the western shore of Conception among other boats including Day Dreamer, Glide, and Asolare – from Ketchum, Idaho! When we were in Georgetown (at a Red Bull sponsored VIP party that Rod managed to get us into – yes, a Red Bull party!) we met Pam and Dennis aboard Glide. When they learned we were from Idaho they surprised us by saying they knew another boat from Idaho! The next day we had the opportunity to meet John and Ann. They keep Asolare in Florida while they enjoy Ketchum and in the winter months they cruise in the Bahamas.
The snorkeling/diving at Conception was phenomenal. Southhampton Reef on the northwestern corner of Conception is an extensive reef system stretching out 4 miles from the island. Twenty-five to thirty foot towers of coral over a sandy bottom reaching vertically to the surface like skyscrapers. Snorkeling there was like flying around and through the buildings of Manhattan with piscine residents. Amazing.
We toured Turtle Creek by dinghy with Day Dreamer and watched the schools of sea turtles coming to the surface for breaths of air. If they saw us watching them as they surfaced they would make a large splash as they quickly dove back into the water, making it impossible to get any good pictures of them!
Even though Conception Island is just a small speck on the map it was well worth the stop. It's always hard to leave paradise, but we hear that Rum Cay is just as spectacular, so that's our next stop.